Finding Community and Peace in the Rockies
Discover the allure of Pikes Peak Ranch
Hi! We're Jack and Mariah Hoesly and we can't wait to host you on the Ranch!
In the spring of 2023, we were fortunate enough to purchase Pikes Peak Ranch (formally Pikes Peak Resort).
The property has a long history and space in the community as a stunning mountain cabin escape in Woodland Park, Colorado. On June 8th, 2002, a U.S. Forest Service employee burned a letter while patrolling for illegal campfires that sparked one of the country's larger forest fires. 138,000 acres of Colorado forest burned and 133 families lost their homes in The Hayman Fire.
The fire changed lives and exposed flaws in how forests are managed and fires are fought. The previous owner of Pikes Peak Ranch, Gary Bieske, took years to rebuild 2 properties lost onsite and planted thousands of trees throughout the land as a response to the devastation.
Gary Bieske, the previous owner of Pikes Peak Ranch dedicated years to rebuilding cabins that were lost in the fire. Gary's stewardship and love of the land resulted in thousands of new trees being planted and a massive conservation project to restore the ranch.
Today, we are continuing Gary's legacy by dedicating ourselves to continued stewardship of the land and expanding on the property's incredible impact on the community.
Much of what we do is driven by the Japanese philosophy of 'ikigai'. Ikigai is most closely translated as 'life worth' and is based on 4 main considerations: what you love, what the world needs, what you are good at, and what you can be paid to do. It is the focus on harmoniously combining these 4 elements of mission, passion, worth, and profession that allows one to be truly happy and successful.
The ikigai symbol is the inspiration for the Ranch's logo and influences everything we do at Pikes Peak Ranch.
We are intensely passionate, hard-working people, both independently and as partners in business and life. Coming from opposite coasts of the country, we have called Colorado home for almost a decade.
Together with our two dogs Mishka and Lou, we live year-round on the property and love to be part of whatever is happening on the Ranch. Our combined love of community, music, the Colorado wilderness, and each other is abundantly evident in what we continue to build at Pikes Peak Ranch.
We invite everyone who joins us on the Ranch to share in our awe of the nature that surrounds us every day and the joy of being present in every moment.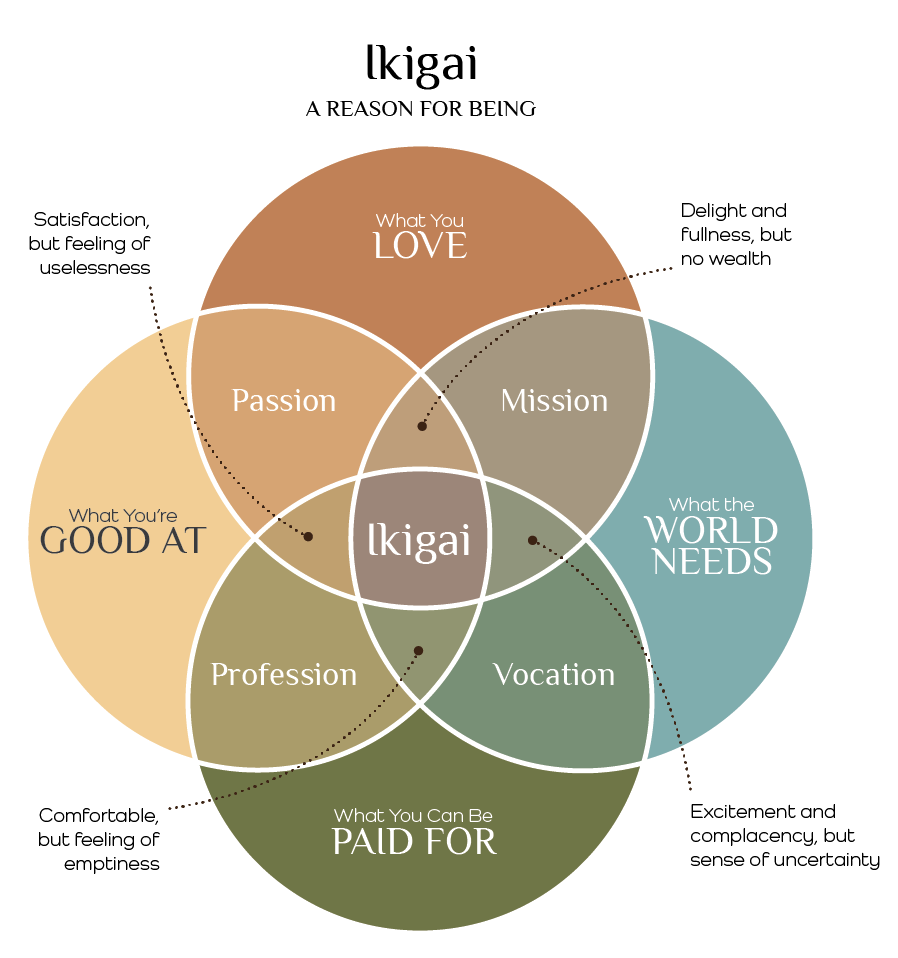 Ways You Can Enjoy the Property
110 Acres of Beautiful, Colorado Wilderness
Unplug | Make Memories | Connect