Colorado Mountain Weddings
Make your wedding a weekend-long mountain experience, unlike any other.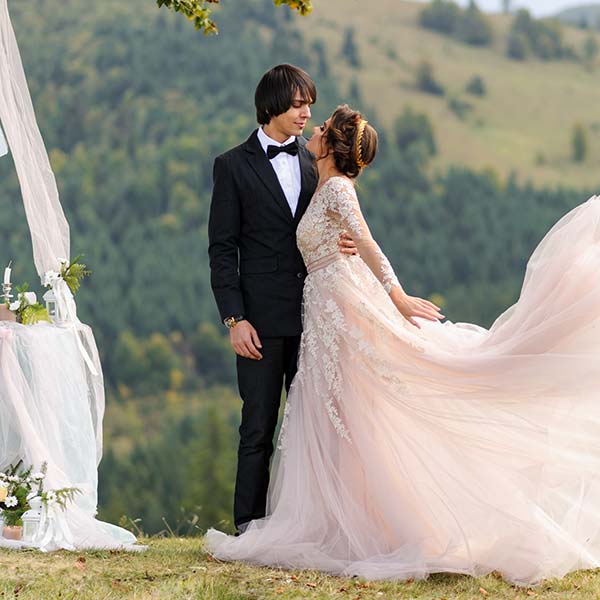 Magic in the Mountains
An unforgettable wedding weekend beneath the stars
Curate your perfect Colorado wedding weekend at the Ranch. At Pikes Peak Ranch, our secluded cabins and brand new event space provide the perfect location for both intimate and larger weddings for an entire weekend. 110 acres make this location pristine and private. Sprawling valley and mountain views and luxury accommodations can't be beat!
Space for everyone closest to you to prepare
Our Pikes Peak and Woodland Getting Ready Suites and before-the-big-day accommodations are the perfect blend of relaxation and modern amenities. Get prepared for your big day — both physically and mentally! Every detail of your preparation process has been considered by our team to make sure you feel comfortable and confident when the moment comes!
A 3,000 sq ft patio to soak in the moment
After exchanging vows, soak in the love with congratulations all around on the outdoor patio with sweeping views of Pikes Peak, Sheep Nose Butte, and the valley below. Watch the sunset turn the mountains pink as you cheers to your new life together.
Create core memories with a picturesque backdrop
There's no place like the Rocky Mountains — and no better place to capture every moment of your wedding day. Guests love that they can soak in quality time staying onsite all weekend. From campfires beneath the stars to sunrises over the Rockies, this is the place to create memories that last a lifetime.
Pikes Peak Ranch is the perfect venue to spend deep and meaningful time together, creating memories that will last a lifetime. Choose from a variety of stunning backdrops for pictures of each moment and enjoy every moment of tranquility here together.
It was a wonderful time in a gorgeous venue! The views, the location, the cabins—all of it was excellent.
This woodland mountain venue truly offers an unparalleled escape from the hustle and bustle of everyday life. The combination of breathtaking natural surroundings, comfortable accommodations, and attentive hosts created a memorable experience that I will cherish for years to come.
From the astonishing views to the cabins being well-equipped with amenities, this is the perfect venue. The drive to it is gorgeous and it's far enough from the city yet not too far at all. Absolutely perfect 🙂
Exactly what the family needed, up to par on every accord.
Just what we were looking for—a private, secluded venue with beautiful surroundings
Such an amazing find! Beautiful view and is very private but still not a far drive to anything.
This venue was so remotely located and far from any high-volume traffic and we LOVED it! The pictures posted are accurate but not as beautiful as the place is in person.
What to expect from this mountain ranch wedding venue
The 110 acres of the Ranch allow you to create something that is totally your own. Use our preferred vendor list to craft a wedding that allows your love story to shine and encourages your guests to build a lifetime of memories alongside you.
Full Access Wedding
All full access wedding packages include:
Ceremony Site Choice
Formal Ceremony Rehearsal (1 hr. Limit)
Event Hall Reception Area
Reception Tables & Chairs (Up to 145 guests, set-up not included)*
On-site Facility Management
Pikes Peak & Woodland Park Getting Ready Suites
Equipped Catering Kitchen
8 Cocktail Tables
Card & Gift Table
3 Outdoor Propane Fire Pits
Outdoor String Lighting
Wedding Ceremony Only
Ceremony site only weddings include:
Ceremony Site Choice
Ceremony Seating up to 145
Formal Ceremony Rehearsal (1 hr. Limit) Available Upon Request
On-site Facility Management
Pikes Peak & Woodland Park Getting Ready Suites (Available Upon Request w/ Added Charge)
Starting Base Pricing
Full access wedding $7,500  |  Micro wedding (25 or less) $2,000  |  Elopement (10 or less) $1,000
*Day of coordinator and or planner needs to coordinate table and chair setup. Set up is available by Pikes Peak Ranch staff for an additional charge.
Marry your best friend at a Colorado ranch wedding venue.
Come visit us in person to understand exactly what sort of energy and tranquility can be experienced at Pike Peak Ranch. We're under 2 hours from Denver and under an hour from Colorado Springs, making the trip easy no matter where you're coming from. We can't wait to host your wedding on the Ranch!
The best way to experience all that Pikes Peak Ranch has to offer is to visit the venue in person. Get in touch to schedule an in-person tour of the property with one of our experts.